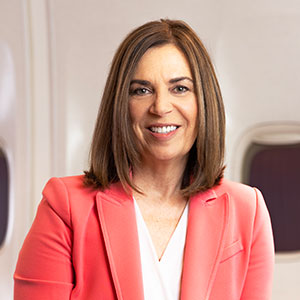 Senior Vice President Worldwide Sales, United Airlines
Doreen Burse is senior vice president of worldwide sales at United Airlines. In this role, she oversees the global sales strategy, enhancing existing business travel programs and building new partnerships to improve the United for Business customer and partner experience.
Prior to joining United, Doreen worked for 30 years in the hospitality industry. Most recently, she led a team who served over 1,300 Corporate, Association, and Meeting & Agency intermediary partner accounts as the Vice President of U.S. and Canada Global Sales at Marriott. During her time at Marriott, she also held leadership roles in distribution services and global procurement, guiding her teams to best support customers through multiple significant internal and external changes,
including the 2020 pandemic.
Doreen is a well-known figure in the travel industry. She frequently speaks on thought-leadership panels and participates in a variety of industry-related organizations. Most recently, she was a member of the foundation board for Meetings Professional International (MPI) and the board of directors of AMC Institute. Currently, she is on the airline editorial board for Smart Meetings magazine, the Business Travel News board, the Allied Leadership Council member for the Global Business Travel Association (GBTA), is a Chairman's Circle member on the US Travel Association board and sits on the board for Choose Chicago.
United has been on its United Next journey for over a year now. Can you describe what that entails and what progress has been made?
Our United Next strategy is focused on initiatives that improve the traveler experience, specifically our fleet and route network. Our fleet is being modernized – with up to 700 new aircraft on order and a retrofit of our existing mainline aircraft. Those new 737 MAX narrowbodies are already entering service – an average of two per week – and the retrofits of our existing fleet are well underway. Your travelers will take notice and feel the difference when traveling on these larger, more comfortable and more advanced planes.
United's route network is getting an upgrade, too! We're flying to 114 international cities this summer and have expanded our flying by 25% versus last year. Our leadership position across the Atlantic and the Pacific is further bolstered by the nearly 25 new routes we're adding – so travelers have more options to destinations around the world. Our new and upcoming routes include service to Dubai, UAE; Malaga, Spain; Stockholm, Sweden; and Auckland and Christchurch, New Zealand.
United has been positioning itself as a leader in sustainability. What's new with United on the sustainability front?
To date, United has invested in the production of over three billion gallons of sustainable aviation fuel (SAF) – the most of any airline in the world.* We continue to team up with our corporate customers to help invest in SAF to further signal its demand and scale its production using both our Eco-Skies Alliance and Sustainable Flight Fund.
SAF awareness across consumers presented an opportunity to educate people about the role SAF plays in reducing emissions. To that point, we recently "hired" our first Chief Trash Officer – Oscar the Grouch – to drive awareness of the benefits of SAF. With more than 30 pieces of original video, digital, social and out-of-home content, Oscar's five decades of trash experience showcase how garbage can help fuel the future of air travel.
In a first among U.S. airlines, we now display a carbon footprint estimate** on our app and united.com for each flight. Plus, travelers have the option to contribute to United's investment in the UAV Sustainable Flight Fund. The default option for customer contributions is set to $3.50. To illustrate the potential impact of customer action at scale: if the 152 million people who flew on United in 2022 each contributed just $3.50 to the UAV Sustainable Flight Fund, that would be enough to design and build a SAF refinery capable of producing as much as 40 million gallons of alternative fuel annually. ***
* Based on publicly announced airline offtake agreements for future purchases of SAF
**on a per economy seat passenger basis.
*** United derived these approximated figures based on an illustrative capital expenditure benchmark of $200,000 per barrel per day to build a SAF production facility.
What is corporate business demand looking like at United?
We see 2023 as the new baseline for business travel volumes and patterns. Traditional business travel continues to evolve and hybrid work has fundamentally changed the travel landscape. Instead of traditional troughs in demand on Tuesdays and Wednesdays, the spread in demand has presented efficiency gains. Regardless, we look forward to continuing our strong support of business travel and prioritize working with our corporate travel customers and their partners to serve their needs.
Last year, you announced United for Business Blueprint. Can you describe how United is changing the contracting process? What's new on this front?
The voice of the customer and their dissatisfaction with past air contracting processes was loud and clear. The industry and business needs continue to evolve. United for Business Blueprint enables modern contracting terms and amenities built in a customized way and based on the unique needs of each customer. We offer a best-in-class suite of benefits and services, and our customers deserve the opportunity to incorporate of the offerings they value most. United for Business Blueprint deals are in market, and our customers are striking the right balance for their programs.