GBTA Convention 2023 is The Business Event of the Year® for business travel professionals to gather, innovate and learn about new products and services.
Give your organization the best opportunity to connect in person with the dynamic and influential business travel community.  GBTA Convention is the premiere event to showcase your organization. Exhibitors can create unique experiences at GBTA Convention to engage this key audience.
Interested? Contact our exhibit team  with any questions about exhibiting.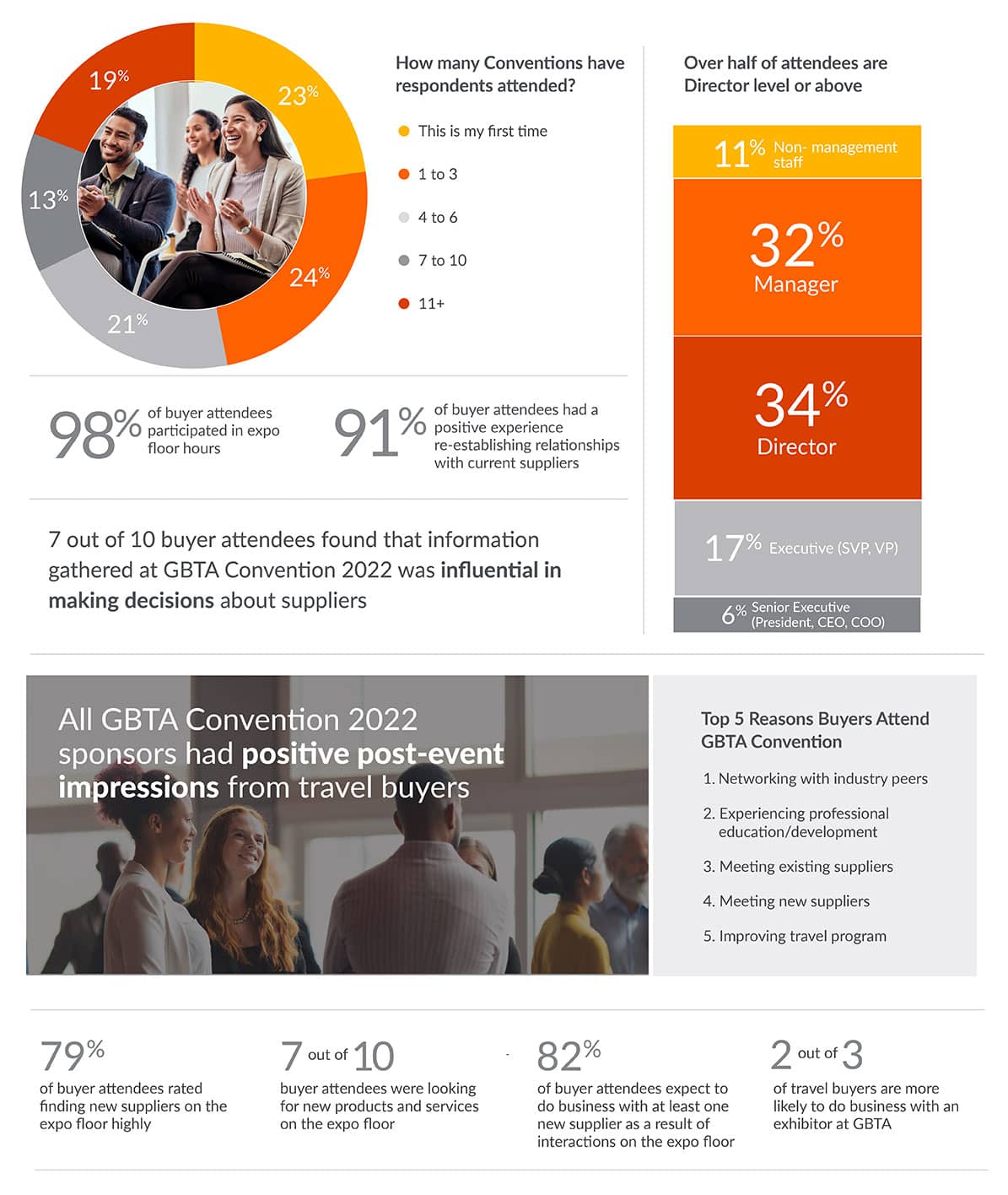 Exhibitors Come From a Range of Industries
Airfare Auditing
Airline
Airport
Airport Parking
Benchmarking Data
Car Rental
Computer Reservation
Convention & Visitors
Bureaus
Convention Center
Credit Card
Energy Travel Specialists
Expense Report Audits
Extended Stay Housing
First Time Exhibitor
Furnished Apartments
Global Assistance
Program
Governmental Agency
Hotel
Hotel Auditing
Hotel Management
Hotel Representation
Incentive Travel
Innovation
Limousine/Chauffeur
Marine/Offshore Travel
Specialists
Medical Evacuation
Protection
Meetings Technology
Meetings/Special Events
New Product/Technology
Other
Passport/Visa Service
Payment Solution
Potential Savings
Analysis
Press/Publications
Private Jet Air Charter
Program Audits
Restaurant
Software
Technology
Travel Management
Travel Safety/Security
Travel Security/Health
VAT Recovery
"GBTA is one of the premier industry events of the year. A great opportunity to combine educational sessions, trade show updates and colleague networking into a high energy 3- day conference."
"Great opportunity to meet all our vendors, and new vendors in our ever-changing travel landscape. The Mainstage sessions equally provided fantastic updates on the industry which is affecting us all."
Exhibiting Benefits & Rates
One complimentary registration per 10x10 (a maximum of six complimentary registrations for up to 1,200 sq. ft. and a maximum of nine complimentary registrations for 1,500 sq.ft. or larger sized booth)
Company Identification sign (7"x 44")
Draped back and sidewall
Appointment tool
Displaying the mobile app and online floor plan
Approximately 10 hours of expo selling time*
*Subject to change
| | | | | | | |
| --- | --- | --- | --- | --- | --- | --- |
|   | 11/10/22 | 2/1/23 | 4/21/23 | 5/26/23 | 6/30/23 | Standard |
| GBTA Member | $45 ft² | $46 ft² | $47 ft² | $48 per ft² | $49 per ft² | $50 per ft² |
| GBTA Non-Member | $52 ft² | $53 ft² | $54 ft² | $55 per ft² | $56 per ft² | $57 per ft² |
Ready to book your booth? For PDF version, contact us at exhibit@gbta.org or click here to select your booth online.
Custom Turnkey Booth Insert
Save time with a Custom Turnkey Booth fit to your existing 10'x10' or 10'x20' exhibit space. Provide company name, logo, and various images and arrive to GBTA Convention 2023 to an already completed booth.
Investment: $4,800 per 10x10, $8,200 per 10x20.
*Orders do not include exhibit space.
Interested in exhibiting at GBTA Convention 2023? Contact us at exhibit@gbta.org or fill out the form below.
I agree to receive communications from GBTA and understand I may update my preferences at any time, or opt-out of communications from GBTA, as referenced in the Privacy Policy.