Find the sponsorship that best fits your organization's goals
Increase Your Brand Visibility at the Business Travel Event of the Year
Sponsor and give your organization the best opportunity to connect with the business travel community.  In 2022, 7 out of 10 buyer attendees found that information gathered at GBTA Convention was influential in making decisions about suppliers.
Don't miss out on making an impression across the 3-day event and explore how sponsorship can help your organization expand its network, increase lead generation efforts, enhance branding opportunities, and make an impact at the global business travel event of the year. 
Interested in sponsoring GBTA Convention 2023? Contact our sponsorship team with any questions about sponsorship.
 
Diamond


$135,000

Platinum
$100,000
Gold
$75,000
Partner
$30,000
Complimentary Registrations
30
15
6
3
Main Stage VIP Tables (per day)
3
2
1
 
Pre-blocked Hotel Rooms
50
40
 
 
Private Business Lounge
20/20
20/10
 
 
Two Executive Hotel Upgrades
 
 
 
Diamond Sponsor Spotlight Interview (GBTA program or digital)
 
 
 
Custom Artwork Banner in Public Area
 
 
 
Classic Visibility Package
 
 
 
GBTA Viewing Area Commercial
 
 
 
All attendee registration lists sent in June (1), and then bi-weekly starting early July with name, title, company, state and email address
 
 
Banner Advertisement Outside of Expo Hall
 
 
Early Bird Registration Extension (

9 weeks prior to convention)

 
 
Logo recognition inside Expo Hall (4×4 aisle sign and decal stickers on carpet)
 
Logo Recognition on Official GBTA Promotions (website, event app, official materials, and sponsor recognition banners)
Listing on 'Our Sponsors' GBTA Convention Webpage
Inclusion in Expo Raffle driving direct buyers to booth
Buyer only registration list with name, title, company, state and email address sent four times
Sponsored Content advertisement in the GBTA Daily News Brief
*If sponsor purchases multiple sponsorship opportunities at various tiers, sponsor will be recognized at the highest sponsor level tier purchased.
Baggage check in a convenient location. Sponsor may provide a giveaway to attendees within this area. Branding onsite.
$7,500
Expo Hall Golf Cart Sponsorship- SOLD
Promote your brand on highly visible golf carts that will run on the main cross aisle of the expo floor. These carts will pick up and drop off attendees at designated spots on the expo floor.
$25,000
Expo Hall Rest Stops - SOLD
Sponsor rest stops along the main aisles of the expo hall with two benches at each of the locations. Use this visible opportunity to encourage attendees to visit your booth.
$18,000
GBTA Viewing Lounge Commercials
Put your commercials to work, generating awareness and traffic to your booth. Commercials will air on viewing area screens throughout the Convention Center in high traffic locations guaranteeing you near total attendee viewership and brand exposure.
$5,000
Lanyard Sponsorship - SOLD
Lanyards are provided at registration. Have attendees walking around the center with your brand logo throughout the event.
$26,500
Registration Sponsor - SOLD
Showcase your organization to event attendees from the moment they register, to their arrival at Convention.  Your company logo will be displayed at the footer of the registration website during the registration process for all attendees to see. Your logo will also appear in all the attendees' email registration confirmations and be included prominently at the registration area which is heavily trafficked and centrally located at the Convention Center. 
$100,000
Education Session Coffee Break
Located throughout the Convention Center near Education Session rooms, the Coffee Break will be a central point during Education Sessions and visible as attendees head to and from Sessions. Sponsor may design branded coffee cups or sleeves.
$20,000
Convention Center Branding Opportunities
Give your brand high visibility throughout the Kay Bailey Hutchison Convention Center with customizable signs, clings, banners and other branded placements.  Great placements have been highlighted below, and additional opportunities can be found here.
| | | | |
| --- | --- | --- | --- |
| Name | Location | Dimensions | Price |
| Banner DE.7B | Near Registration | 297"W x 196"H | $39,500.00 |
| Banner AB.3-1 | Near Expo Entrance | 12'W x 12'H | $12,000.00 |
| Banner 9 | Door Over Exhibit Hall Exit | 612"W x 140"H | $22,000.00 |
| Banner F.4B | Near Main Stage | 324"W x 48"H | $18,000.00 |
| | | | |
| --- | --- | --- | --- |
| Name | Location | Dimensions | Price |
| Window Cling F.5 | Near Main Stage | Middle Windows: 56"W x 117"H | $3,500.00 per cling |
| Window Cling F.6 | Near Main Stage | Middle Windows: 52"W x 117"H Bottom Windows: 52"W x 117"H | $2,500.00 per cling |
More information coming soon.
Name
Location
Price
Floor Cling - 5x5
Inside Expo Hall or in Lobby Areas
$1,500.00
Floor Cling - Circle - 2x2
Inside Expo Hall or in Lobby Areas
$500.00
Floor Cling - Circle 3x3
Inside Expo Hall or in Lobby Areas
$750.00
Floor Cling - Circle 4x4
Inside Expo Hall or in Lobby Areas
$1,000.00
Floor Cling - Square - 2x2
Inside Expo Hall or in Lobby Areas
$500.00
Floor Cling - Square - 3x3
Inside Expo Hall or in Lobby Areas
$750.00
Floor Cling - Square - 4x4
Inside Expo Hall or in Lobby Areas
$1,000.00
Add branded floor decals to enhance any sponsored area. Additional sizes are available and can be quoted upon request. Placement for floor graphics must be approved by the convention center.
Spotlight your organization as the sponsor of the Broadcast Studio.  The business travel industry's top executives, CEOs, influencers and thought leaders have the opportunity to share thoughts and opinions on the industry in an interview style format. This sponsor will be featured alongside cutting-edge business travel announcements and industry updates.
$40,000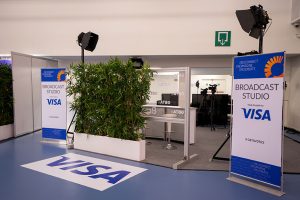 Provide Convention attendees with a comfortable place to charge their devices. Device charging areas are highly valued by Convention attendees. Includes two sets of branded charging tables and seating. 
$10,000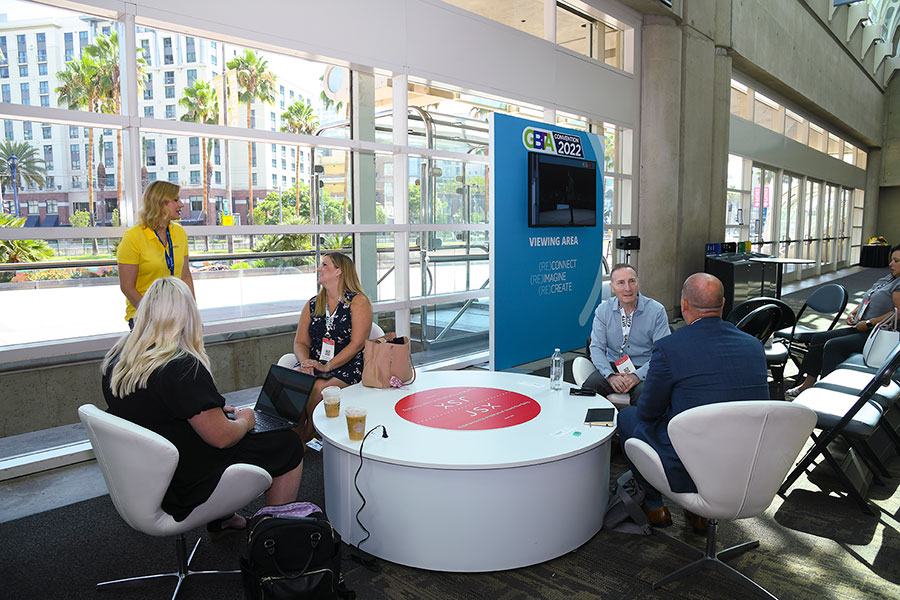 Place your branding in an Education Session Viewing Area. This is a place for Convention attendees to relax, recharge, network, and watch live-streaming Convention content on monitors in heavily trafficked areas of the Convention Center.
$8,500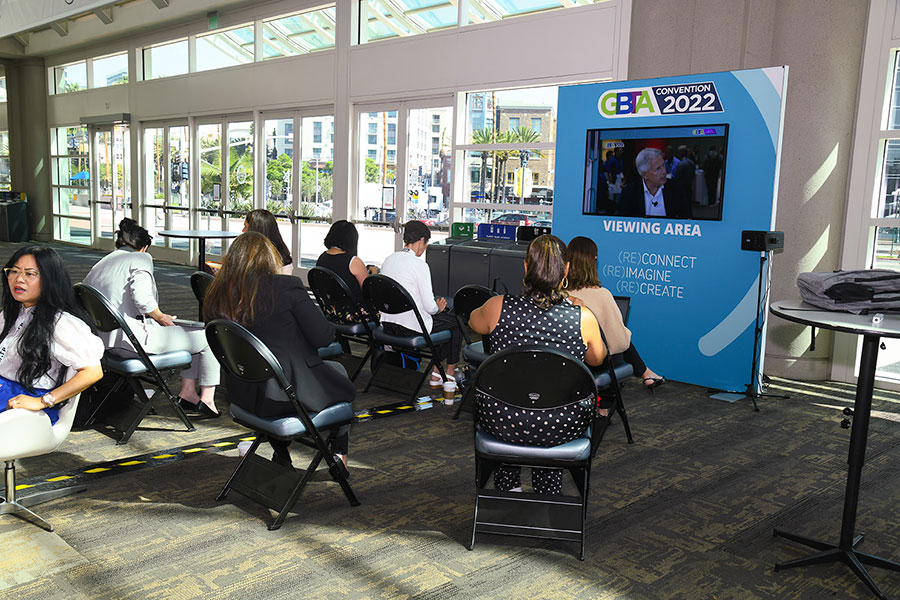 Branded area with the sponsor's logo featured prominently. Attendees will have the ability to capture a photo of themselves while onsite at Convention. Sponsor is encouraged to create an interactive atmosphere that will encourage engagement.
$10,000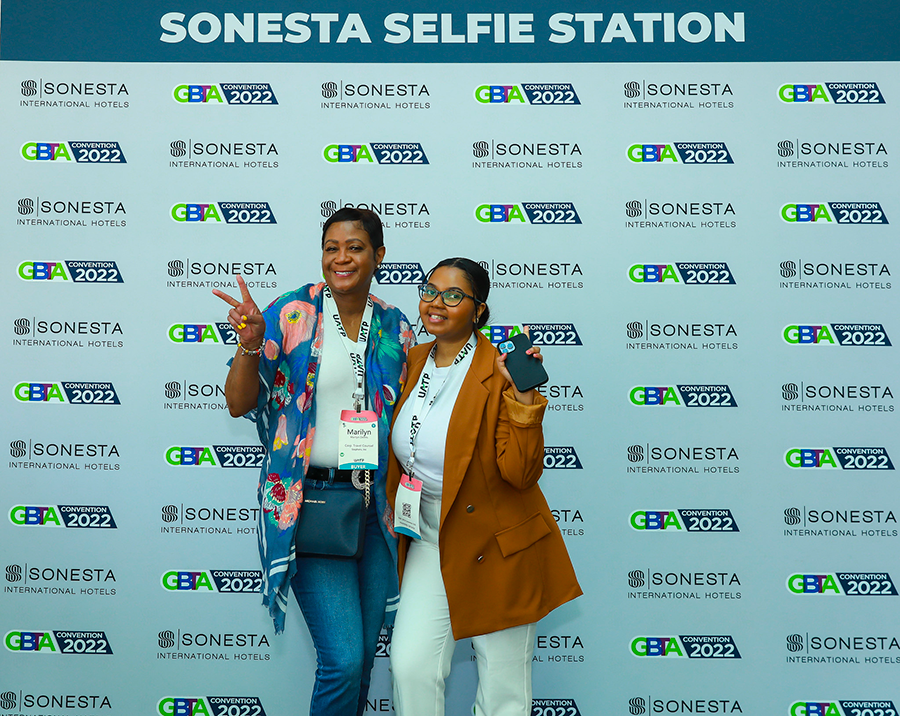 Hold meetings with your staff, clients and prospects in a private lounge during expo hours. This space will also be available for meetings at select times outside of expo hours.
10 x 20: $6,500
20 x 20: $9,500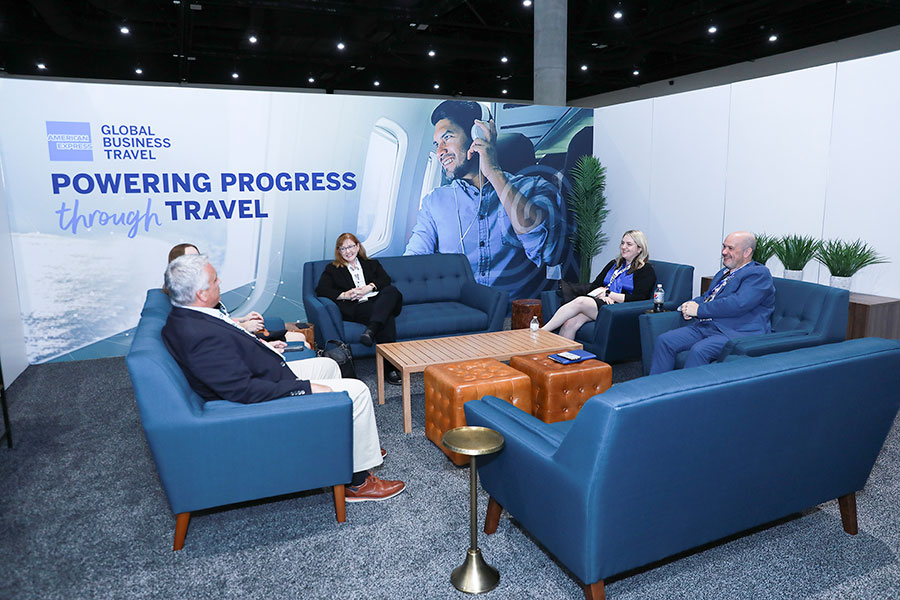 Create a completely unique and custom space in a highly trafficked area that allows your organization to effectively tell your story and engage with Convention event attendees.
$25,000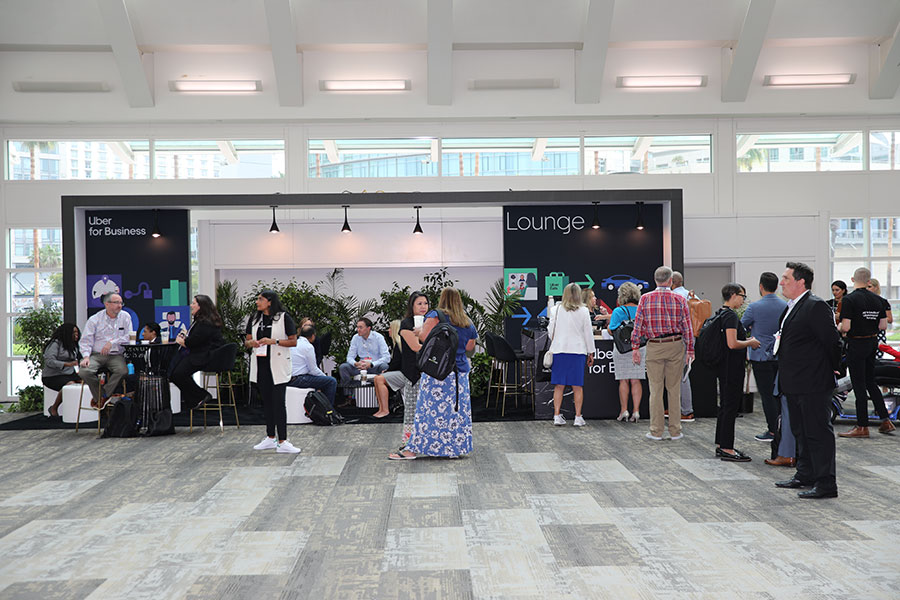 The Innovation Pavilion Startup Package was designed to build brand awareness, generate new leads, and position young companies as thought leaders within their space. A section of the GBTA Expo floor will be highlighted as the Innovation Pavilion. New entrants will be able to easily access innovators in the technology and business travel industry. This sponsorship also includes a GBTA Industry Membership, a 15-minute speaking opportunity in the Expo Theater, and a Kiosk in the Innovation Pavilion.
$15,000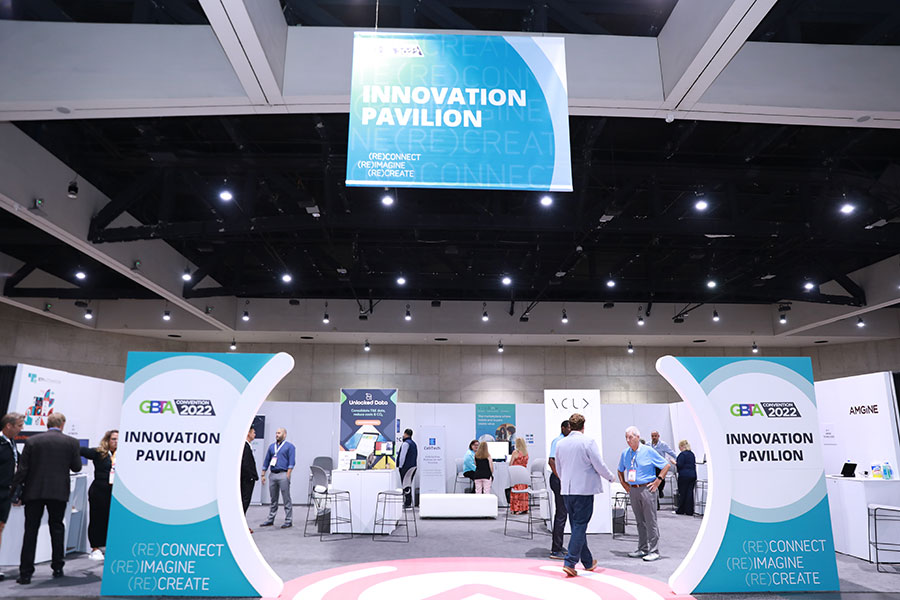 Don't miss the opportunity to showcase your organization's efforts to "green" business travel! Enjoy full access to the GBTA Convention Expo show floor in the Sustainability Pavilion that is open during Expo hours and located in a high-visibility area that will provide maximum exposure, engagement, and accessibility to GBTA Convention's core hub of activity. Take advantage of the hall being full of attendees and meet with participants about your product or service and present and explain the initiatives and solutions your company is taking to help make business travel more environmentally friendly, eco-aware, and sustainable. This opportunity also includes access to the GBTA Convention attendee appointment tool and a sponsored content piece in the GBTA Daily News Brief.
$5,500 for a Kiosk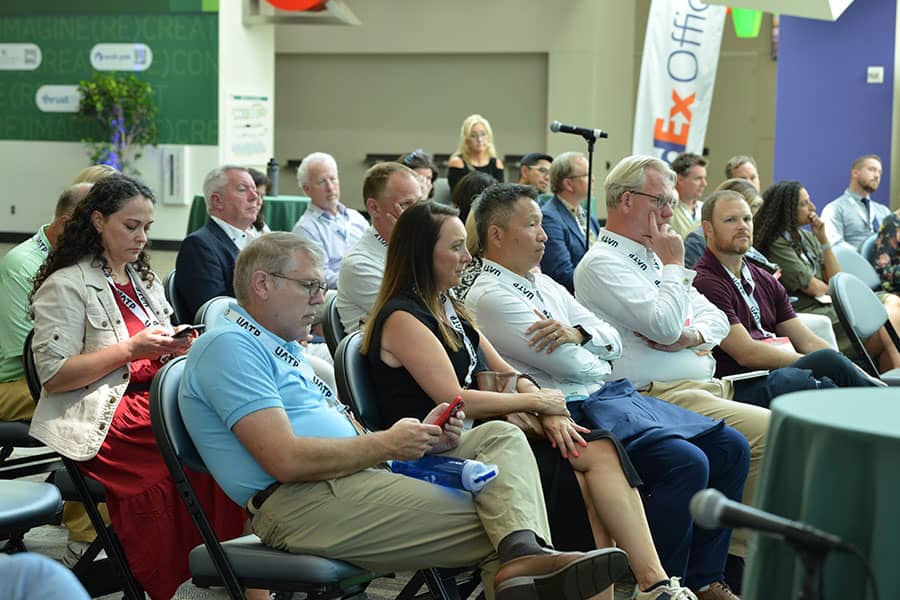 GBTA Convention On Demand (Post- Convention)
Establish your company as a thought leader in education. Sponsor will have branding and visibility associated with the On Demand recording of the Education Sessions at GBTA Convention 2023. This branding will be visible for all attendees after the conclusion of the Convention and for a period of approximately six months. This unique sponsorship provides on-going brand recognition as an educational supporter and contributor within the global business travel sector.
$35,000
GBTA Convention Plus (Post- Convention)
Sponsor will have branding and visibility associated with the Convention Plus live streaming and recording of select content at GBTA Convention 2023. This branding will be visible with all four live streamed Main Stage sessions, as well as select education sessions.
$25,000
Sponsor will be prominently featured in the event app which will be used to communicate with attendees before, and during Convention.  The mobile app will be made available for Android, and iOS and include graphics to be customized by the sponsor.   
$65,000
Mobile App Push Notification
Encourage event attendees to visit your booth by sending your custom message to event attendees who have downloaded the event app. 
$2,500 (per one notification)
Provide attendees with complimentary WiFi available throughout the Convention Center. Your company logo will appear on the landing page to access WiFi, on the official GBTA Convention website, and on signage at the Convention Center.
$90,000
Thought Leadership / Event Sponsorship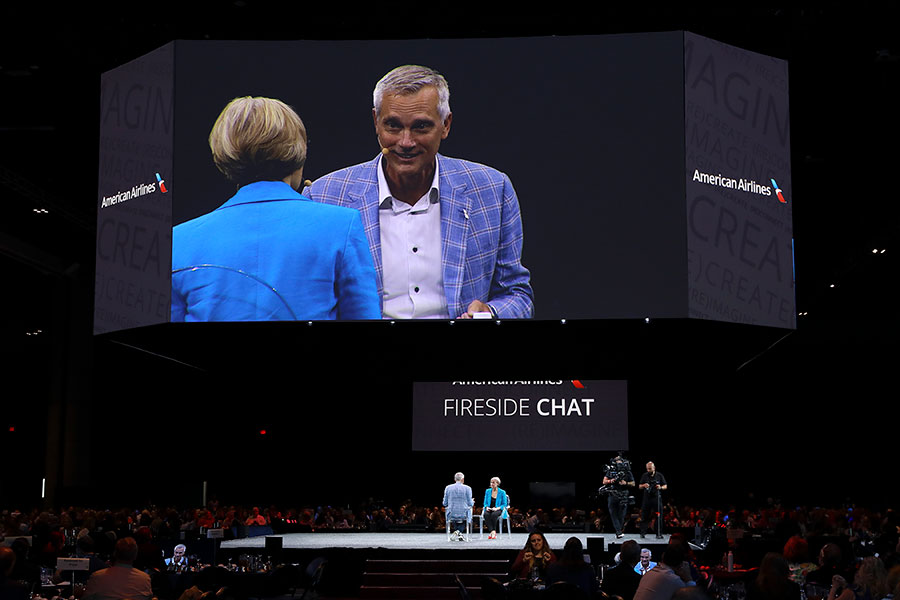 Main Stage General Session & Lunch Sponsorship
Convention Main Stage General Session & Lunch Sponsorships are each unique; they include the opportunity for an executive from the sponsor's organization to address the largest audience during the event. These sponsorships are an excellent venue for an executive to share their views and perspectives on the future direction of the business travel industry.
$500,000 per session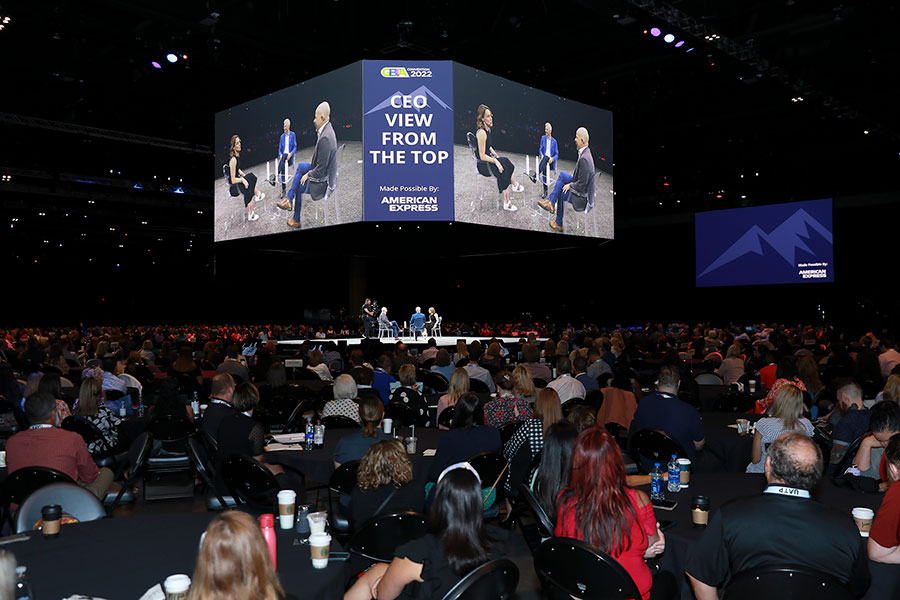 Main Stage General Session Sponsorship
Be a thought leader within the business travel industry. Capture the attention of attendees by presenting your organization alongside cutting-edge, industry relevant speakers. Sponsors will benefit by showcasing their organization as the sponsor of these engaging sessions.
$75,000 per session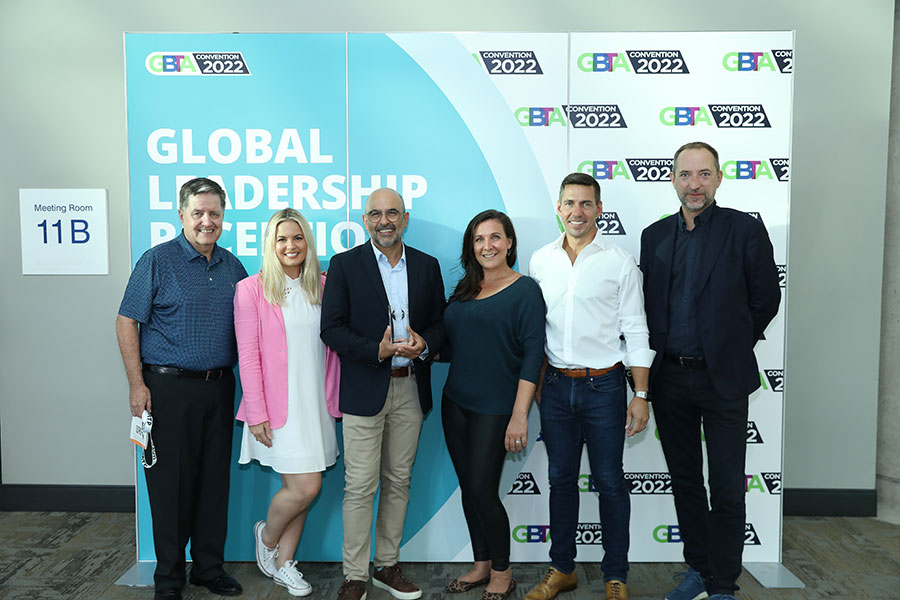 Global Leadership Reception
This special event will bring together GBTA leaders from around the world to celebrate the global identity of GBTA. Benefits include 10 invitations to the reception, opportunity to hand out giveaways and address the audience for 5 minutes.
$30,000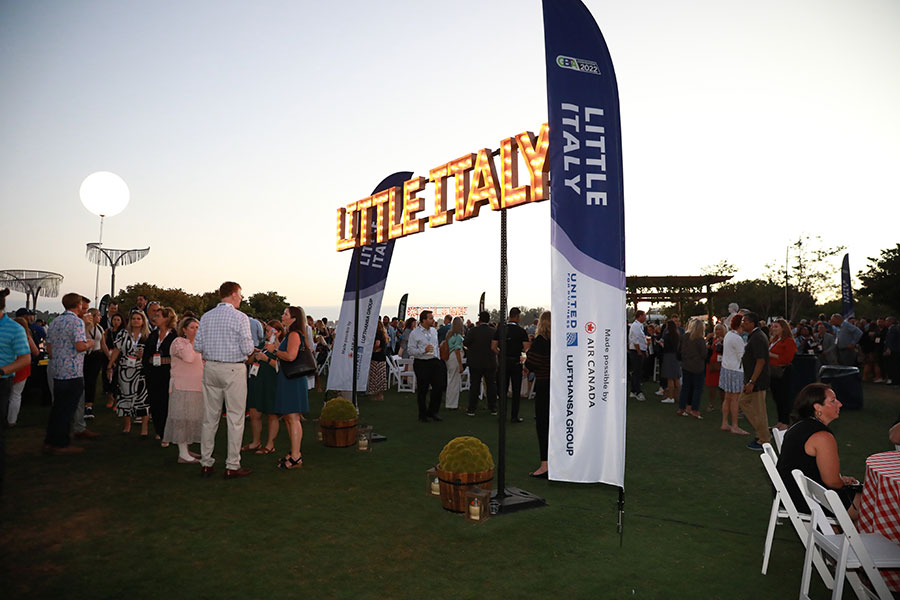 Welcome Reception Sponsor    
The Welcome Reception kicks off the GBTA Convention with food, drinks, and entertainment. This year's reception will be held in the Expo Hall and will highlight the local Dallas flair. The Welcome Reception is included with all Full Convention registrations.
$27,500 per sponsor
NEW – Connect First Sponsorship
Connect First is a program for first time convention attendees, and new or returning professionals. Includes a dedicated page on the Convention site, the Connect First Open House, the Connect First Lounge in Expo, 2-3 Reserved tables during Main Stage, discussion boards and group chats in app, VIP treatment- targeted emails, mentors, and more.
$45,000
NEW - Photo Feed Sponsorship
GBTA is excited to announce a new and one-of-a-kind sponsorship opportunity for GBTA Convention 2023 – The GBTA Convention 2023 Photo Feed.
Using state-of-the-art photo technology (powered by our partner, GetPica), attendees will be delighted to see all the pictures that they appear in at GBTA Convention 2023. And you, as sponsor, will have the exclusive ability to brand this highly engaging photo stream.
$25,000
NEW – Wellness Lounge Sponsor
GBTA is focused on bringing attendee wellness to Convention. Sponsor a Zen/quiet room at the Omni Hotel (easily accessible from the Convention Center) which will be furnished with soft seating and lighting.
$20,000
New - Education Sponsorships
Education Session Track Sponsorship
Showcase your presence within the preferred travel domain, to an audience interested in educational opportunities around the same topical area. In addition to two-days of brand visibility, you'll partner with GBTA for one co-developed education session
$75,000
Co-Developed Education Session
Get involved in the planning and development of a breakout education session, working with GBTA to determine topics and create a balanced session to engage event attendees. GBTA staff will provide guidance and support on subject matter, format and speakers
$20,000
Education Session Commercial
Provide GBTA with your video commercial (up to 60-seconds) to be played at the beginning of one of the Education Breakout sessions.
$5,000
Increase your convention ROI with an attendee list. Each list will be sent out multiple times. Dates to be provided later.
| | |
| --- | --- |
| All Attendee List with Email | Buyer Attendee List with Email |
| $7,000 | $4,500 |
Invite registered customers to join you at a reserved VIP table in a premium area for all Lunches and General Sessions during Convention.
$7,000 for all 4 Main Stage Sessions
$2,000 for 1 Main Stage Session
Ready to sponsor or need expert advice on which opportunity is best for your organization? Fill out the form below and a member of our sponsorship team will reach out to you shortly.