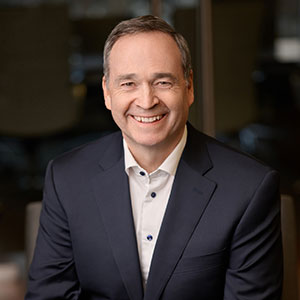 President & CEO – Choice Hotels International
Patrick Pacious is President and CEO of Choice Hotels International.  With more than 7,400 hotels, representing over 625,000 rooms, in 45 countries and territories, Choice is one of the largest and most successful lodging franchisors in the world. Pat's nearly 20-year tenure at Choice has been marked by growth, innovation and effectively anticipating and capitalizing on industry trends. Under his leadership, the company successfully placed strategic bets on new hotel segments, revitalized legacy brands, improved business delivery to hotel owners, and advanced a purpose-oriented and inclusive culture for Choice associates.  
Choice Hotels acquired Radisson Hotels Americas in 2022. What's the latest on the integration?
The acquisition of Radisson Hotels Americas was the most significant transaction in the history of Choice Hotels, and the integration is a critical undertaking for us. There's an old adage that good transactions get done at the negotiating table, but great transactions get done in the months afterward. And that's exactly what we're doing: turning a good transaction into a great one for our travelers and franchise owners.
We're ahead of schedule to meet our technology and commercial roadmap milestones. We've already enabled loyalty members to seamlessly exchange points between our two award-winning loyalty programs — Choice Privileges and Radisson Rewards Americas — and we're working to fully merge those programs as well as the two reservations systems and websites. Completing the integration will enable us to deliver the full Choice Hotels value proposition to our guests, including our corporate customers, and to our hotel owners.
How does the acquisition of Radisson Hotels Americas impact Choice's brand portfolio?
It's a gamechanger. The acquisition expanded our upscale portfolio and made us a stronger challenger in the segment. It added a total of 67,000 rooms to our portfolio, grew our number of global upscale rooms, open and in the pipeline, to over 80,000, and significantly expanded our presence on the West Coast and in the Midwest.
The strengthened upscale presence combined with our traditional concentration in upper-midscale, extended stay, midscale and economy allows us to meet more guests' needs in more places and for more occasions than ever before.
Last year, Choice Hotels launched Choice Direct Pay. Can you tell us a little about that program?
Direct Pay is designed to make it even easier for our corporate customers to book and pay for rooms at participating hotels. It enables companies to make reservations for their employees and guests at multiple Choice hotels and then receive a single consolidated invoice for all the stays. Corporate travelers don't need to rely on credit cards or payment guarantees — the front desk knows they are Direct Pay customers, and their folio information is sent for invoicing with the click of a button.
It's available across multiple booking channels, including the GDS, and the response from travel managers has been overwhelmingly positive — we are seeing new corporate enrollments almost daily across a variety of industries. It's just one of the latest examples of how Choice invests in innovative technology to deliver an even better experience for our customers and improve performance levels for our hotel owners.
What's next for Choice Hotels?
We will continue to improve our portfolio and deliver the right kind of growth. Our competitors have been chasing growth at all costs, but our model is different. We are focused on ensuring that the new hotels entering our portfolio are better and often in more desirable markets than the ones they replace. That strategy has helped transform Choice Hotels into a company that is in a stronger competitive position with even greater long-term growth potential.
We'll also continue to look for smart strategic partnerships like the one we launched with PENN Entertainment in 2021, allowing Choice Privileges members to earn and redeem points at any of their more than 40 casino hotels across the country, as well as book their stays on ChoiceHotels.com.
And speaking of ChoiceHotels.com, we recently launched a national multichannel marketing campaign starring Zooey Deschanel to let travelers know that by booking directly on our website, they can find the right hotel at the right value for every type of stay,
And finally, we're focused on capitalizing on some key business travel trends, including the reshoring of American manufacturing and the nationwide investments that the country is making in infrastructure. They are both driving a major increase in blue-collar business travel. With our strength in extended stay, midscale and economy, we are uniquely well-positioned to meet the needs of these travelers, now and in the future.
At Choice, we truly believe that tomorrow will be even better than today, and we are committed to building that better tomorrow with our franchise owners and our guests, one hotel and one stay at a time.